We anticipate Moshiach's arrival before Tisha B'Av, in which case there will be a whole different progarmme in Jerusalem!
Tisha B'Av programme will take place at
Chabad of Ilovo
Chabad Benmore-Riverclub
&
 Sandton Central shul

Schecule below is for Sandton Central Shul
8 Stella St, opposite Gaurain
You're welcome to join us or find out what similar programmes are available at your Shul.

Monday evening, 31 July - Tisha B'Av eve
Maariv and Eicah: 6:00 pm
followed by
NEW DOCUMENTARY  TISHA B'AV PROGRAMME
 Reading of Eicha –lamentations 
followed by a special lecture with clinical psychologist Tracey Farber 
"Ani Ma'min - exploring the Impact of the Holocaust on the Spiritual Beliefs of Survivors" including testimonials from South African Jewish Survivors as well as unique video footage
not to be missed!

Tuesday, 1 August Tisha B'Av Morning
Shachrit (no Tallit and Tefillin): 8:15 am
followed by an explanatory Kinus programme

Tuesday, 1 August Tisha B'Av Afternoon
Mincha (with Tallit and Tefillin): 4:45 pm
Maariv: 5:45 pm
followed by break-fast refreshments

Halachic Times
Fast Begins: 5:41PM
Chatzos: 12:14 PM
Fast Ends: 6:06PM

May we merit to celebrate Tisha B'Av this year together with Moshiach
and the rebuilding of our third Holy Temple, AMEN!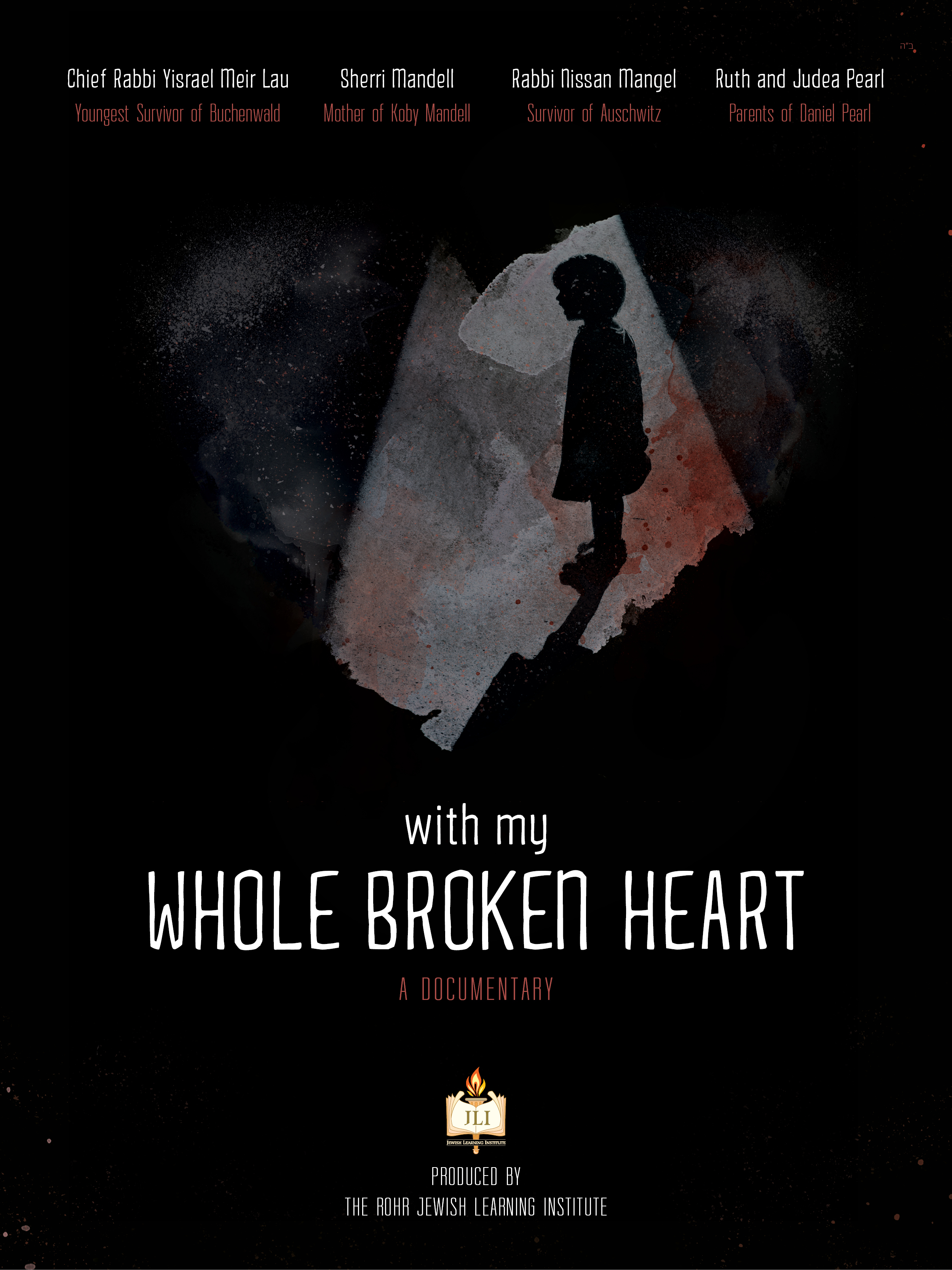 NEW DOCUMENTARY AND TISHA B'AV EVE PROGRAMME

In the summer of 2001, two Jewish teenagers were hiking near their homes in the West Bank when they were stoned to death by Palestinian terrorists. A few months later, Daniel Pearl, a reporter for the Wall Street Journal, was kidnapped and murdered in Karachi, Pakistan; his last words: "My father's Jewish, my mother's Jewish, I'm Jewish."
With My Whole Broken Heart is a professionally-produced and emotionally-gripping 45-minute film featuring heart-wrenching stories of valiant parents whose children's lives were claimed by terror and their inspiring responses to their horrific experiences. The documentary also follows the lives of two of the youngest survivors of Auschwitz and Buchenwald who emerged from the darkness and transformed the Jewish landscape.
The film is framed around the Rebbe's response to the 1956 terror attack in Kfar Chabad that claimed lives of 5 students, and features interviews with Daniel's parents, Ruth and Judea Pearl; Sherri Mandel, mother of Kobi Mandell; former Israeli chief rabbi, Rabbi Yisrael Meir Lau; and Rabbi Nissan Mangel.

To be followed by a discussion of Justice and the War on Terror

C lick here for more about Tisha B'av.

What is Tisha B'av
The saddest day on the Jewish calendar is the Ninth of Av, "Tisha b'Av," the date on which both our Holy Temples were destroyed, and exile, persecution and spiritual darkness began.
Tisha b'Av starts at sundown of the eighth of Av and lasts till the following nightfall. During this time-period we fast, eschew pleasurable activities and amenities, and lament the destruction of the Holy Temple and our nation's exile.
It is a tradition, however, that Tisha b'Av is also the birthday of our Redeemer. This symbolizes the idea that from the ashes of the destroyed temple will rise an incomparably magnificent edifice; exile will give birth to redemption. Thus Tisha b'Av is also a day of anticipation and hope, for "One who mourns Jerusalem will merit seeing her happiness."
Basic Laws of Tisha B'av
Besides fasting, we abstain from additional pleasures: washing, applying lotions or creams, wearing leather footwear, and marital relations. Until midday, we sit on the floor or on low stools. We also abstain from studying Torah—besides those parts that discuss the destruction of the Temple.
On the eve of Tisha b'Av, we gather in the synagogue to read the Book of Lamentations. Tallit and tefillin are not worn during the morning prayers. After the morning prayers we recite Kinot (elegies). We don the tallit and tefillin for the afternoon prayers.
What happened on the Ninth of Av?
A Historical Overview
The 9th of Av, Tisha b'Av, commemorates a list of catastrophes so severe it's clearly a day specially cursed by G‑d. Another confirmation of our deeply held conviction that history isn't haphazard.

The Laws of Mourning
As part of our mourning for the destruction of the Temple and the exile of Israel, we abstain from many pleasurable activities on the night and day of Av 9, first and foremost: eating and drinking.
Order of the Day
A Step-By-Step Guide to Tisha b'Av Observance
The Separation Meal, the Book of Lamentations, elegies, prayers, Torah Readings, the break-fast, and more.