Kaddish and Yahrzeit Services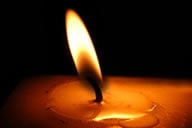 Chabad will say Kaddish for your loved ones. 

Kaddish is a bond which unites the Jewish generations from time immemorial, and unto eternity. Kaddish is the way we show our respect for our parents and the way they showed their love and respect for their parents. 

Tragically, in today's day and age the sacred Kaddish tradition is not always maintained. There are times when there is no surviving male to recite the mourner's Kaddish for the traditional eleven months after a parent's parting, and on each Yahrtzeit thereafter. 

Perhaps it is true for you. Perhaps you have a loved one whom you would want memorialized in annual Kaddish or Yahrtzeit remembrance.  Or even for yourself -after 120 years- to have Kaddish recited for the zechus and merit of your soul in the generations to come. 

Chabad can arrange to have Kaddish and Yahrtzeit observed for your loved one right here in South Africa by one of our dedicated rabbis.  

We do not charge for our Kadish Services, though your donation assists us in furthering our vital work, and will be dedicated in the loving memory of your loved one bringing merit to their soul.

We offer the following Kaddish/Yahrzeit options/plans: 
A. Kaddish, Mishnayos, recited on day of Yahrtzeit perpetually (Suggested Donation R1800) 
B. Kaddish, Mishnayos recited three times daily, for eleven months  (Suggested Donation R3600)
C. Kaddish, Mishnayos recited three times daily, for eleven months  and on the day of the Yahrtzeit perpetually (Suggested Donation R5400) 

As per Chabad policy, no one is ever turned away due to lack of funds. 
Contact Rabbi Ari Kievman for more info [email protected] or call 079-434-1293

Click here to learn more about Kadish.

Banking Details:
Account number: 62457937989  
FNB Balfour Park - Branch : 250-655  
Ref: your name + whom kadish is to be said for

Donate easily by Credit Card following this link:
www.walletdoc.com/pay/chabadSeniors
Please email any proof of contributions or payments for the Shul to [email protected]